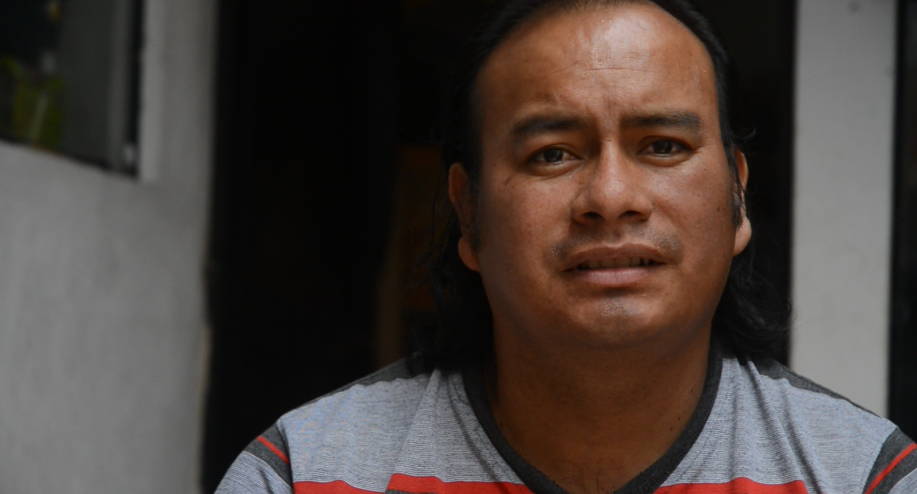 Amilcar Rafael Chocoj Jimenez.

We first met "Rafa" in 2014. He is a street vendor in Panajachel, Guatemala. We were impressed with the beautiful bracelets he was making. Each had an intricate design carved into a coconut shell and then using his macramé skills he would turn the carved coconut shells in into beautiful bracelets and necklaces.

Over a period of 3 years we had purchased dozens of his wonderful products and resold them internationally to help fund our education and humanitarian projects in remote villages of Guatemala.

In 2017 our son-in-law, Jared Borden, created the Good Always™ logo and gave it to Kim and me to use in our efforts to help the indigenous people we were working with.

On one of our early 2017 trips, as we were working our way across the Central Highlands visiting some of our friends who we help market and sell their products to people in locations outside of Guatemala; we finally found ourselves standing in front of Rafa's table in Panajachel. I drew him a picture of the Good Always™logo with the word Do in front of it. I ask him if he would make one sample bracelet for us.

We returned the next day to see what he made. It was UGLY!
I said "Rafa what happened? Esta es MUY FEO!"
Rafa quietly said, "That's because you drew the picture."
He had discovered that I wasn't much of an artist. No real surprise I guess.
So Rafa said, "Let me draw and make it. It will ready for you tomorrow."
We returned the next day to see what he created. It was simply amazing. It was what we had hoped to find.
So, I said to Rafa, "Ok, can you make 400 of these over the next 8 days? We are leaving for Peten and we will be back to Panajachel in
8 days."

After pausing from the initial shock of receiving an order for 400 units - Rafa emphatically retorted, "Of course I can".

However, I could see there was a lot of doubt in his eyes.
(I knew this was an impossible task to accomplish in just 8 days. I had witnessed the process of making the coconut carved bracelets and understood the time it required to make one.)

We went ahead and gave Rafa our usual 50% deposit on our order and took off driving to our next appointments in Alta Verapaz and Peten in the Northern part of the country.

Eight days later as we were driving back to Pana; we received a WhatsApp text from Rafa that said, "How close are you to me? When will you be in Pana?" He had borrowed a friend's phone to text the message.

Sensing something might be wrong, I called the phone the text had just come in on. Rafa answered and I said, "Hey Rafa, how's it going?"
His only response was, "How close are you?"
"We are 3 hours way from your table" I replied.
"3 hours!!! You are only 3 hours away!!! Oh No!, Oh No! - This, this... Ok I will keep working until you get to Pana."
There next thing I heard was the phone disconnecting. He sounded a little panicked, to say the least...
When we arrived in Pana, we parked the car and walked to where he always setup his table on the side of the street. He was nowhere to be found.
I quickly sent him a text asking him where he was. He responded by texting back "I will be there in an hour - I will see you at noon".
One hour later we returned to Rafa's usual vending location. It was immediately apparent he was nervous and extremely worried.
"How are things going?" I asked.
"Not so well", he said sheepishly.
"What happened?"
"You want 400 brackets."
"Yes"
"I only have 389 done. I am short 11 bracelets"

I was ecstatic and said, "That means you hand carved 389 coconut shell medallions' and hand wove 389 macramé bracelets in 8 Days!!! And all you are worried about is the 11 that are not finished? The quality of your workmanship is amazing; and you did all of these incredible things in just 8 days! Rafa, You Are The Man".

A smile of relief came across his face and he said, "Thanks for the confidence you have in me."

We paid him the balance we owed him; plus, we gave him a big bonus for all he had accomplished. Three weeks later we gave him a order for 1,100 bracelets and necklaces. We were off and running.

Since this experience took place, Rafa has hired 8 of his family and friends to help keep up on the demand for his Good Always™ products. He and his family members and friends now can support their families, buy shoes for their kids and pay for their own children's education.

Rafa is a living example of the thousands of hard-working and talented people there are who simply want an opportunity to shine. All he needed was a Hand UP in life.

We have many other similar success stories from people we are working with, in numerous locations, who are producing beautiful handmade, original sourced products as part of the Good Always™and Light-It-Forward Foundation family. These are determined people who are simply looking for a Hand Up in life - Not a Handout.

We are an Inclusion Organization that is Turning Darkness Into Light With Love. We just work with two groups of people. The first are those who are living in life's margins in extreme poverty; who are merely looking for a Hand Up - NOT a Handout.

The second are those who are offering a Hand Up. They are having a tremendous impact in the lives of 100's of people who had been living in the margins, in extreme poverty.

We Build Bridges. We simply connect People with Resources and Compassion - To People with Desires and Strong Work Ethics.

The real heroes in these stories are the socially conscious people - like you, who are buying their quality products. You are the difference makers in thousands of people's lives.

We are simply the people in the middle. 100% of our profits are donated to Sustainable Humanitarian, Employment Producing and Educational efforts. We make sure the money, you spend on Good Always™ and Light-It-Forward products™, goes to the people who need it the most. Motivated people, who are looking for a Hand Up in life.

Thank you for becoming the most import part of the Good Always™ and Light-It-Forward™ family. Your kindness and generosity makes the world a lot brighter as you help create better days for wonderful hardworking people like Rafa.